The Craftsman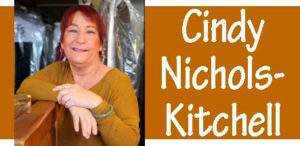 Recently, it was just another typical week for Cindy Nichols-Kitchell, who co-owns
Bud's Drycleaning
 in Roseville, CA, with her husband, David. She worked on a batch of restoration projects, which means cleaning and restoring precious and invaluable items.
"To me, it makes me happy," she laughed. "I call it my 'happy hands' when I get to do stuff like that. I get all excited. I don't get nervous. I get happy."

One of the one-of-a-kind garments that passed along her work station was a flight suit from World War II that had been worn by a naval aviator.
"The flight suit was electrified," she noted. "So, they would actually plug their flight suits into the dash of their plane. I only know this because of my father. It would actually keep them warm because in World War I and World War II they didn't have heat in those planes and they were basically canvas.
They were just thin metal."
"It looks like an astronaut's suit because it's got this thick cord that sticks in the dashboard, like a cigarette lighter kind of thing. It's really funny," she added. "I did that job. I worked on a doll. I did a vintage wedding dress from the 1950s. Those were my projects last week and I got them all done."

With several decades of experience handling heirloom and vintage restoration, Cindy doesn't consider herself a cleaner: "I look at it as a craft," she said. "I'm a craftsman."

She may rightfully call herself a craftsman, but Cindy comes from a long line of merchants. Her family has a rich history of selling goods.
Before opening Bud's Drycleaning (named after Bud himself), Cindy's father worked for her grandfather's grocery store in Alhambra as a butcher after returning from service in World War II.
In 1948, he transitioned from selling goods to services and opened a plant in San Gabriel which still goes by Bud's Drycleaning today though it has switched ownership many times.
"Then they moved to Roseville and bought an existing cleaners in 1957, which was in the old, historic part of town," Cindy recalled.
Bud renamed that business after himself, too, and the following year began renting another building at the property where the business still stands today. At the time, it was considered on the outskirts of town; today Roseville has expanded so much (its population has grown from about 16,000 in 1958 to over 130,000 today) that it treads on the edge of town in the opposite direction.
"We started out in one building where we had the cleaning machine and the equipment and all that with the laundry in the basement," Cindy explained.
However, the business has grown by word-of-mouth over the years. "Eventually, we filled up five buildings. They just kept adding on to the building," she added.
Cindy and her siblings naturally chipped in at the plant after school and on Saturdays. "My fondest memory is going to work with my dad when I was like six and going in on Saturdays. That was my time alone with him," she recalled. "Being raised in a family business, you had to do everything. Whenever somebody needed back up, that's where you went."

Her hands-on education included everything from pressing to working the front counter, but what she had the most affinity for was stain removal, a craft she began at 16. She had also fostered a deep love for vintage clothing by that time. In high school, she liked to wear her grandmother's wardrobe from another era.
"She had a lot of really nice clothes. In fact, I still have some of her stuff from the 1920s and 1930s," Cindy noted. "I was in high school in the 1970s and everybody was wearing mini-skirts and peasant dresses and stuff like that and I'm wearing jackets and skirts from the 1920s, 1930s and 1940s. I always liked vintage clothing. I still wear it today."

After graduation, Cindy tried her hand at various things and even moved to L.A. to attend the Fashion Institute of Design and Merchandising to be a costume designer.
"I've always liked working with my hands and I am really tactile so I like fabrics," she said. "I'm an accomplished seamstress. I've done costume design for local theater productions. I was always into fabrics and fibers."

Los Angeles was too much of a rat race for Cindy, having grown up in a small town with a slower pace. She returned to Roseville almost 40 years ago and has been at Bud's full time ever since.
At one point, Bud's had expanded to include four stores and 24 full-time employees, but Cindy believes today's numbers (two stores and eleven full-timers) is more ideal to make sure that the final level of quality on clothing is nothing short of perfect.
"I like having just two locations because we are hands-on every day," she noted. "There is nothing that doesn't get touched by one of us (her and David) every day."

That strive for perfection isn't just aimed at the vintage and heirloom pieces, either.
"What's funny is it's worse with regular clothing. We do absolutely everything that we possibly can to make the garment perfect," she emphasized. "We will not put a 'sorry' ticket on it until the last ditch effort has been applied. There's not much that we can't get out."

Her employees, many of whom have over 10 and 20 years worth of experience, feel the same way.
"My employees value what they do. They look at their job as not just a job. They look at it as a craft and it is a craft. People don't realize that," she explained. "Everybody takes pride in what they do."

Even with a modest-sized staff, Bud's produces on average about 300 to 400 shirts and 250 drycleaning pieces a day and as much as 300 modern wedding gowns annually.
Still, it's the more unique vintage items that makes Cindy the happiest. Her skills were boosted greatly by working with industry icon Doris Easley for more than a quarter of a century. In fact, the "Queen of Clean" still visits her at Bud's on a regular basis.
"She's 94 and she still came by yesterday," she noted. "She comes over and hangs out every week or every two weeks. I call her my 'Wal-Mart greeter.' I put her up front and she talks to everybody. It's awesome."

Over the years, Cindy has worked side by side with Easley on some huge projects, including perhaps the most difficult one she has ever taken on.
"We did a project of a mansion down in the middle of the Valley that had a fire — a historic mansion which is now owned by the Gallo family… as in Gallo Wine. I think we did something like 6,000 pieces. It was insane," she said. "It's called the McHenry Mansion. They do tours and actually dress each room and we had to do all of the textiles and curtains. It was super fun because it was all 1800s stuff."

The fire took place back in December of 2011 and it caused extensive damage to the front of the building. Smoke and water affected the entire structure, including all of the historic garments and linens within. Overall, the project took almost a year.
"It was really intense," she said. "I did her [Ms. McHenry's] mourning suit, but my favorite piece was a 13-star flag. That was really cool. It was hanging up in the hallway so it got really smoked."

When dealing with such delicate and priceless artifacts, Cindy follows a precise script.
"They sign a release. We take no responsibility — though I've only had one thing fall apart. I test them extensively. I test for water. I test for solvent. I test for soap because everybody tests for solvent but they forget about the soap part that goes into the solvent. That can be a problem. You test, obviously, for fragility. It takes practice in knowing how things are going to react," she explained. "Of course, you have to walk away. You can't stand there for too long. I usually work for like half an hour or 45 minutes and then walk away."

Relying on patience and instinct, a lot of the intricate hand work requires an incredible amount of concentration, but it's all worth it when the pieces are finished. Cindy has worked on many challenging and rewarding endeavors.
"The oldest piece I've ever done was from the 700s," she said. "It was Asian. It was basically a piece of fabric — the fabric was the only thing left."

"Probably my favorite piece I've ever done was a Burmese Altar Canopy. I did it through one of the collectors who sends me stuff," she added. "It's the canopy that hangs over an altar and it's all hand painted and it's silk and it was really smoky because they burn incense [around it]."

It took a while to figure out that the canopy contained sanskrit writing on it.
"It was just really cool," she said. "It would hang above the altar and then you would light incense and you would chant this chant."

Other items aren't quite so historical, but they are certainly sentimental to those who own them such as vintage wedding gowns.
"I'm getting ready to box one this week that I just did. I did a total restoration of it and we had to let it out eight inches to be worn by the third generation," she said. "We had the little glovelets that could actually inset into the sides to let it out."

Such satisfying work makes her love her job. She can't wait to tackle the next interesting challenge. No matter what it is, however, she knows you can't rush perfection. "It doesn't go out my door until it is right," she said.